"Come with me? I'll help you ."
- Yuki waterflower
[Yuki Waterflower the Seedrain, belongs to SonicKnucklesfan92, however, she is free for roleplays of the seedrian wiki]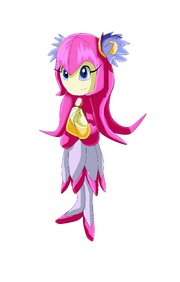 Yuki Waterflower is a Female Seedrain that is very kind towards others.  She even helped the almost killed Thorndrigan from being killed.  However during the escape, she was almost killed protecting him. In the end she transformed to save her and his's life from both being completely destroyed.
Info/ information
Edit
Name: Yuki Waterflower
Age: ???
Current Age: ???
Species: Seedrain
Likes: helping others, heeding cries of others who need help
Dislikes: exiled, death, planet eggs being stolen
Love interest: Pine Daros
Appearance/ Personailty
Edit
Transformation
Edit
Background
Edit
Special Abilities
Edit
Pine Daros
Edit